Get the Benefit to Export Exchange 2003, 2007, 2010 database to SharePoint
Migrate Exchange Public Folder to SharePoint Server is not a difficult task now because Exchange Public Folder to SharePoint is a product, developed by the most renowned name of online software market, making this task easier for you. Facility for transferring public folder from Exchange to SharePoint Server comes in this product. Import Exchange Public Folder items into SharePoint Server with this tool, are Emails, Contacts, Calendars and Documents.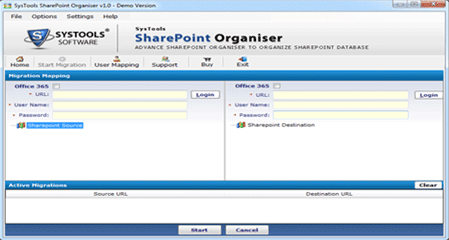 Provides SharePoint 2007/2010 Support
In this Exchange Public Folder to SharePoint migration software, you get support for both SharePoint Server editions 2007/2010.

Supports Batch Folders and Files Migration
Bulk migration of folders and files of Exchange Public Folder into SharePoint Documents Library is supported by this migration product.

Retains Folders/Directory Hierarchical Order
During migration, the product retains original hierarchal order of directory/ folders that are involved in migration process.

Provides Character Mapping Feature
Second "Character Mapping" feature of product mainly relates to Exchange Public Folder documents but, also relates to other files. By making use of that, you can map the characters given in the name of any file of Exchange Public Folder with characters that supported by SharePoint.

Offers Naming Convention Facility
Third "Naming Convention Feature" of product also relates to emails of Exchange Public folder. By making use of that, you can choose the name that you want to give to emails in SharePoint after moving .epub folder emails into SharePoint. You can give Subject, CC details, BCC details, etc in name.

Offers Profile Metadata Mapping Feature
Product offers one "Profile Metadata Mapping" feature in relation with Exchange Public folder emails. By making use of that feature, you can map metadata fields of emails like CC, BCC, Subject, Date, Time, Body, etc with metadata fields that are supported by SharePoint.
Take a Trial for FREE evaluating the software:
Get a proper idea and perform the task to migrate Exchange public folder to SharePoint with a FREE demo version of this software. It display the entire preview of every step and migrate limited (500 MB) Exchange Public folder data. After experiencing the ease, get the full license of this software.

Grab Full Functional Tool for Limitless Migration
You can puchase the full fledged version of SharePoint migration software for tarasnferring Public folder from Exchange to SharePoint without any restriction. The full version allows to import Exchange public folder items on your computer system with its original formatting. So, make small investment and get it now.
Client's Testimonials
Exchange Public folder to SharePoint migration is quite easy via your software. Lots of thanks to your developer team, they make so much effort and developed such a great and easy-to-use utility which smoothly works while migrating even a vital data.

– Cilina Brown