Import File System Data with Perfection
Our File System to SharePoint migrator program has been built with choicest set of technologies to offer a fine process to migrate file system data in SharePoint platform. The SharePoint file system migration application functions on ace level of techniques for the secure and intact migration of data from file system to Server. The versatility of this File System to SharePoint can be seen via the unrestrictive support it provides to all editions of Windows Operating system.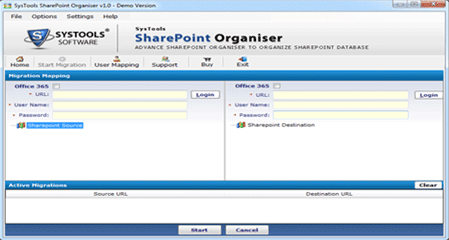 Migrate Bulk File System Data
File System data stored within your Windows partition can be transferred successfully to SharePoint Server in bulk amount which gives you the freedom of import file system data as much as you require.

Permission Mapping Option
Under the permissions mapping of Windows File System to SharePoint migration software, you can alter the permission of accessing the data from SharePoint. This option permits you to make the file viewable for selected category of users only.

Character Mapping Option
This option which lets you make modifications in the name of the file that has special characters unsupported in SharePoint Server. This way users can make their data accepted on SharePoint Server for eased accessibility.

Transfer Multiple Data
Migration of files as well as an entire data folder can be migrated from file System to SharePoint. This feature gives the permission to transfer multiple data at a time from one platform to another via batch migration.

Migrate Data without Overwriting
The set of data which has earlier been migrated via trial version can be overwritten according to the user convenience. If the user wants file migration to SharePoint, then they can proceed without overwriting the data on SharePoint.

Arrange File System Directory
Hierarchical arrangement of the folder or file system directory is preserved during File System to SharePoint migration process conduction.
Client's Testimonials
Thanks for providing a such a fabulous product. I was overwhelmed after seeing the 100% accuracy after completing my data of file system to SharePoint migration. Also thanks to your support staff for giving their excellent service.

- Waker